About the Society
The Sam Steel Society is the alumni organization for NMSU's College of Agricultural, Consumer and Environmental Education. Hailed as one of the most brilliant students in the first class to be awarded college degrees from New Mexico College of Agriculture and Mechanic Arts in 1893, Samuel Steel would have been the first graduate of the university. Tragically, he was shot in an alleged robbery. In his honor, we recognize the outstanding accomplishments of all graduates of the college. Members are welcomed in their freshman year at the college and inducted into the society upon their graduation. Members throughout the nation uphold the legacy of Sam Steel through their fellowship and continued efforts which are rooted in their experiences at NMSU College of ACES.
Sam Steel Society Events
Sam Steel Society Induction
In a special ceremony before each graduation, ACES students are inducted into the Sam Steel Society in front of family, friends, and other graduates. This unique event is a personal celebration for ACES graduates, as they join society members who, for more than 125 years, use their knowledge and skills to change the world.
Sam Steel Society Welcoming Ceremony
In their freshman year, ACES students are welcomed into the society with an opportunity to "Ride for the Brand". By painting the Sam Steel officially registered brand on their shirt, they are launched into the first steps of their exciting college career.
Council Members
The council is made up on no more than 17 members of the Sam Steel Society and one current ACES student. All former students of the College of ACES who received a degree are regular members of the Sam Steel Society and are eligible to serve on the council.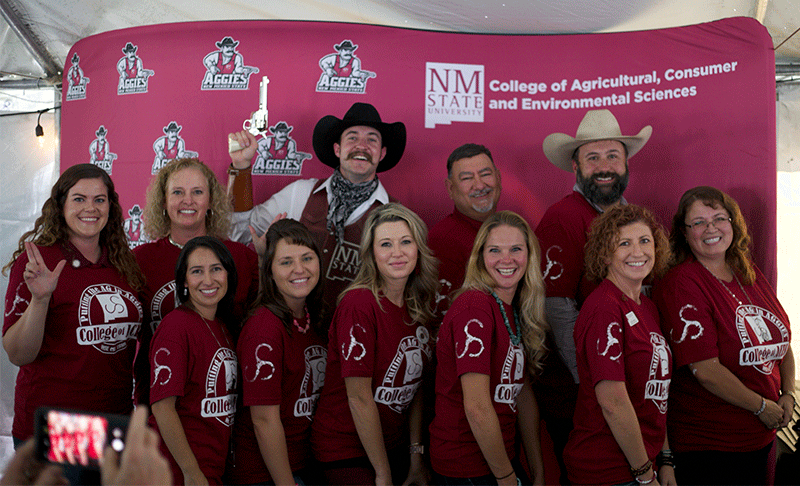 Give to the Sam Steel Society
The council has implemented a giving level structure to help raise funds for Sam Steel activities and to assist in developing scholarships to be awarded in the future. With a gift of $25 or more, donors will receive invitations to the quarterly Sam Steel Society mixers across the state. A Sam Steel Giving Pin, which resembles the Sam Steel brand, has been created to give to all donors giving $100 or more to the Sam Steel Society Fund during the calendar year.
While gifts of any amount are welcome, donors will be given the bronze Sam Steel pin with a $100 gift. A $250 gift will allow them to receive a silver Sam Steel pin. With a $500 gift to the fund, a gold Sam Steel pin will be given.
To make a gift to the fund, donations may be made online. The council looks forward to meeting with Sam Steel Society members across the state and welcomes any input members may have.
For more information, contact, Ashley Lama-Mendoza at 575-646-3210.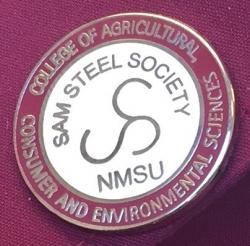 Annual Giving Levels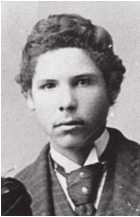 Crimson Level ($1 - $99) - Invitation to all Sam Steel mixers for the year

Bronze Level ($100 - $249) - Exclusive Bronze Sam Steel Brand Giving Pin; Invitation to all Sam Steel mixers for the year

Silver Level ($250 - $499)- Exclusive Silver Sam Steel Brand Giving Pin; Invitation to all Sam Steel mixers for the year

Gold Level ($500 - $999) - Exclusive Gold Sam Steel Brand Giving Pin; Invitation to all Sam Steel mixers for the year; listing on forthcoming College of ACES display (TBD)

White Level ($1000 - $4999) - Exclusive Gold Sam Steel Brand Giving Pin; Invitation to all Sam Steel mixers for the year; listing on forthcoming College of ACES display (TBD); VIP Package for the NMSU Rodeo/Country Music Festival weekend in the Spring or other comparable event later in the year

Diamond Level ($5000 - $9999) - Exclusive Gold Sam Steel Brand Giving Pin; Invitation to all Sam Steel mixers for the year; listing on forthcoming College of ACES display (TBD); VIP Package for the NMSU Rodeo/Country Music Festival weekend in the Spring or other comparable event later in the year; and Special Ag Day VIP Package in the Fall

Platinum Level ($10000 and above) - Exclusive Gold Sam Steel Brand Giving Pin; Invitation to all Sam Steel mixers for the year; listing on forthcoming College of ACES display (TBD); VIP Package for the NMSU Rodeo/Country Music Festival weekend in the Spring or other comparable event later in the year; and Special Ag Day VIP Package in the Fall; one time Sam Steel Scholarship given in your name
* Subject to gifts made to Sam Steel Society Fund between January 1 - December 31
* All gifts are cumulative for the calendar year and any amount is welcome